Imagine
John and Yoko at the Everson and Hotel Syracuse
Thursday, December 8, 2005
By Sean Kirst, Post-Standard Columnist
David Ross first met Yoko Ono in Syracuse. He considers her a friend. But he will not bother her today on the 25th anniversary of the murder of John Lennon.
While Ono is moved by how the world mourns for her husband, Ross said, the annual remembrance on Dec. 8 brings her only pain. She would much prefer, he said, to focus on the joyous moments in his life.
That would certainly include Lennon's 31st birthday in Syracuse on Oct. 9, 1971 a day that some hoped might even climax with a musical reunion of The Beatles, and a date that four years later would become the birthday of the couple's only child, Sean.
In 1971, the Lennons were in town for the opening of "This is Not Here," Ono's first major exhibit, at the Everson Museum of Art. During its three week-run, the show drew thousands of visitors to the Everson, along with such celebrities as Bob Dylan, Dennis Hopper and Andy Warhol.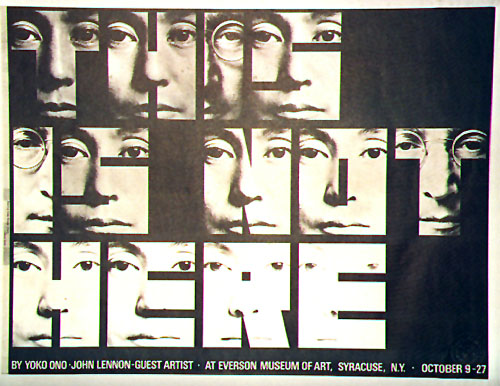 On that first night, Ross as a young assistant to Jim Harithas, then-director of the museum spent hours scrambling to assemble the equipment for what was supposed to be a surprise for Lennon: A midnight concert featuring at least three of The Beatles, accompanied by some of the greatest rock musicians in the nation.
"It was one of the high points of my life," said Ross, a former director of both the San Francisco Museum of Modern Art and the Whitney Museum in New York. He is now president of the Artist Pension Trust in New York City.
"There was going to be a secret Beatles reunion concert, with everyone except Paul (McCartney, estranged at the time from Lennon) in the theater at the Everson," Ross said. "One of my jobs was to get equipment ready, and have it ready, secretly."
In the end, former Beatle George Harrison couldn't make it. But drummer Ringo Starr showed up, as did producer Phil Spector, poet Allen Ginsberg, renowned session drummer Jim Keltner, keyboardist Nicky Hopkins, guitarist Klaus Voormann and such Beatles stalwarts as Mal Evans, a road manager and trusted companion to the band who played anvil on The Beatles' song "Maxwell's Silver Hammer."
Harithas now runs two museums in Houston. He and Ross both said this week that the original, short-lived dream — which Harithas believes came from executives at Apple Records — was to reunite the four Beatles as part of a closed birthday party for John in the Everson.
"Definitely, the idea was there," Harithas said. "I think they tried to get them all. I think it was a thought that never got that far." That reunion, on the day of Ono's great triumph, would have shattered popular belief that Ono was responsible for the breakup of the band, Harithas said.
In the end, only Starr could attend, although Apple chartered a plane that flew in prominent musicians from across the country for an all-star concert intended as a gift for Lennon.
It was the job of Ross to get equipment ready for the concert. But he needed the help of a friend involved with a local band, and he is quite sure the friend must have given up the secret — because, by that night, the news was on the street, which dashed any hopes for the performance.
"That evening the doors to the Everson were broken down because people had heard there'd be a secret Beatles concert at the Everson," Ross said. "The entire museum was filled with people furious that it had been canceled, and we were afraid they'd trash the place. Ginsberg calmed them down. He got up with this little harmonium and started chanting, and that got everyone chanting.
"Meanwhile, this little group went over to the Hotel Syracuse, where John and Yoko celebrated with a small group of friends."
That "little group" of legends shared a guitar-shaped cake that read "A Gift to John from Yoko and the Whole World." Many sat on the hotel room floor as they performed for about 45 minutes, with Starr occasionally kicking an overturned trash can for percussion.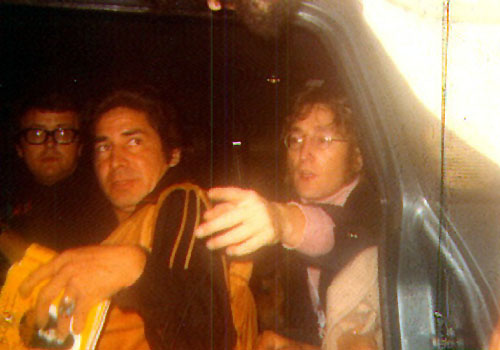 The music survives on tapes available on the Internet, and as part of a film called "Three Friends" by avant-garde filmmaker Jonas Mekas.
In the same fashion as Ono, those closest to Lennon during his time in Syracuse say they'll focus today on memories of a guy they knew as passionate, spiritual and funny — rather than on the grim circumstances of his death.
"John Lennon was a great man who touched the whole world," Harithas said. "I think Syracuse as a city had gone through its ups and downs, and I think everyone's sense of self (after his visit) was really augmented and increased."
Harithas said he met the couple at Richard Bellamy's gallery in New York City, which is how he came to suggest a show in Syracuse. The invitation took some courage. Lennon, at the time, was political dynamite for his stand against the war in Vietnam. A Post-Standard editorial writer questioned whether the presence of Ono and Lennon equated to "a tremendous loss of good taste" for the Everson.
In response, Lennon wrote a funny and scathing letter to the editor that began, "I'd forgotten about people like you!" and got better as it went along.
Both Ross and Harithas vividly recall how Lennon interacted with Ross — then an awed undergraduate from Syracuse University — when the two men went to see the famous couple at their home in New York City.
It was up to Ross to keep Lennon busy while Harithas talked to Ono about the show. Ross said that he and Lennon went into another room, where Lennon took down two guitars from a wall.
They played some old Beatles tunes, such as "If I Fell in Love With You," while Ross did his best to handle the McCartney parts. "I could hardly believe I was sitting around smoking pot and playing with John Lennon," Ross said. "He was so down to earth, such a great guy, so funny, always making sarcastic comments."
While Ono and Lennon spent much of their time in Syracuse with monumental figures, Dominique Avery offers a more mainstream perspective. She is now executive producer for CT-N, a television network in Connecticut that covers daily government. But in 1971 she was an elementary school teacher who happened to be dating Bob Christgau of the Village Voice, one of the prominent voices in American rock music criticism.
"I was an everyday person, not involved in rock 'n' roll," Avery said. Lennon and Ono invited Christgau to Syracuse, she said, because Christgau had written several pieces defending Lennon's role in the breakup of The Beatles.
As a journalist, Christgau didn't like hobnobbing with musicians. He wanted to go to Ono's exhibit and stay away from Lennon's party. But Lennon was Avery's favorite Beatle, and she asked Christgau to make this one exception to his rule. At the Hotel Syracuse, where security guards blocked off the seventh floor, Christgau gave in. He and Avery were allowed into Lennon's suite.
More than 30 years later, Avery remembers a few burning images. Abbie Hoffman, the political activist, was standing near the wall. Lennon was also in the room, while Ringo Starr — seated in a chair — was getting frustrated about some trouble with room service.
As Christgau recalled in 1980, in a memorable Lennon obituary that began and ended with that day in Syracuse, Lennon was telling Starr to identify himself as a Beatle in order to get faster service. "You've got the ——fame," Lennon told him, using a profanity. "You might as well get something out of it."
Lennon then turned his attention to Christgau and Avery. Upon hearing Avery's first name, he began singing snippets from "The Singing Nun," a popular singer whose big hit was "Dominique." Avery said Ono kept hurrying in and out of the room in new clothes, nervous about how she'd look for the opening of her show, asking Lennon repeatedly how each outfit looked.
"You look fine, you look beautiful," he gently reassured her.
Ono and Lennon, Avery said, used some Hotel Syracuse stationery to sign 26 autographs for every child in her class. Then the group rode in a limousine to the Everson, where Lennon insisted on giving Christgau and Avery a guided tour.
Lennon, she said, "was sharp and thoughtful and political and a dreamer, and he really did believe he could influence the world."
Avery never met Lennon again. She eventually broke up with Christgau, although they remain friends, and she called him in the middle of a sleepless night after Lennon was shot to death.
Twenty-five years ago, her interaction with Lennon in Syracuse became part of Christgau's written farewell. As for Avery, she finds it hard to set aside the devastation she felt when Lennon died. But she'd prefer to remember what he did the day he met her, how he paused from all around him to begin singing her name ...
And how John Lennon, from the Hotel Syracuse, can still seem so alive.
© 2005 The Post-Standard.